2015 Pinot Gris
Dampier Vineyard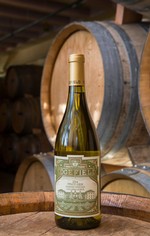 Wine Specs
Appellation
Columbia Gorge
Our 2015 Pinot Gris greets you with a tropical nose full of pineapple, honeydew melon, and lemongrass. On the palate, notes of apple and toasted coconut overlay a subtle undercurrent of spice.
Wine Specs
Appellation
Columbia Gorge
Wine Profile
Vineyard Notes
The Dampier Vineyard is located on Underwood Mountain, overlooking the Columbia River and the Hood River Valley. A family run operation, Dampier Vineyard and the surrounding Underwood Mountain vineyards are well respected for their white grape varieties, producing wines with ripe fruit notes and uplifting acid profiles.
Food Pairing Notes
Our Pinot Gris pairs beautifully with delicately flavored white meats and seafood, such as grilled chicken or shrimp. It is also an excellent accompaniment to salads with light vinaigrettes and fresh pesto.
Other Notes
In French, "Pinot" means pinecone, a reference to the shape of the Pinot family's grape clusters. A mutation of Pinot Noir, Pinot Gris ("Gray Pinot") has reddish-purple skin, thus falling on the color spectrum somewhere between Pinot Noir ("Black Pinot") and Pinot Blanc ("White Pinot"). Despite its color, it is considered to be a white grape. Although the grape hails from the Alsace region in Northeastern France, it is also commonly found in Germany and Northeastern Italy, where it is known as Pinot Grigio.