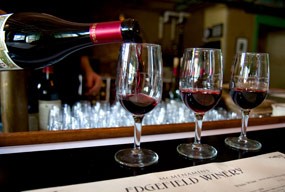 Welcome to Edgefield Winery
Since its inception in 1990, Edgefield Winery has thrived on an ethos of experimentation, striving to help create and highlight the diversity and quality of our region. From its founding association with the Willamette Valley's cool climate viticulture to a wide range of vineyard sites stretching up Columbia Gorge to the Columbia Valley, Edgefield has produced a wide palate of wines to be shared with our friends in our eclectic neighborhood pubs and gathering spots.
A visit to Edgefield begins where the beauty and creative whimsy of the landscaping, artwork and history help to lift the spirits and experience. In the tasting room, four wine flights lead the exploration of the diversity of offerings. From the estate grown Poor Farm Pinot Gris, to rich lush Syrah, blush to sparkling and one of kind fortified dessert wines, guests are sure to find a wine to enjoy in the candlelit intimate setting.
We are able to happily share these affordable wines with a wide audience where we hope they bring the same communal spirit, joy and enthusiasm for the bounty in which they were made.