Meet Your Maker
Davis Palmer - Winemaker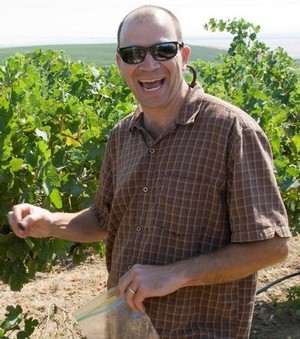 An interest in homebrewing and a family history of bootlegging first inspired Davis to join the McMenamins family back in 1995 as a line cook at the Power Station. He became a brewer for the company and brewed at Edgefield, John Barleycorns, Fulton, Hillsdale, and Oak Hills before joining the winery for harvest in 2000. He quickly was promoted to Cellar Master and became the Head Winemaker in 2003. Since then he has overseen an increased focus on the Columbia Gorge AVA, the expansion of our Rhône program, and the massive growth of our cider production.
"You can't taste too often or too much, you need to track what is developing in the wines and be proactive."
Davis has a strong connection to all the wines we produce, but finds the Syrah program particularly rewarding. He also points to the Fireside Port program as an example of what Edgefield Winery is about. Fortified wines take a great deal of additional planning in the vineyard and winery and take so much time to develop, that they really express a commitment to the end product that is a rarity in the industry.
Want to get into winemaking? He recommends seeking out opportunities to get your hands dirty and your feet wet and see just how wine is made before diving in too deeply. That said, he loves the intensity of harvest and looks forward to tasting fruit in the vineyards every fall to ensure the grapes are picked at peak ripeness. When he's not at the winery, he enjoys hiking, biking, skiing, and spending time with his family.
Liz Kelly-Campanale - Assistant Winemaker & Cidermaker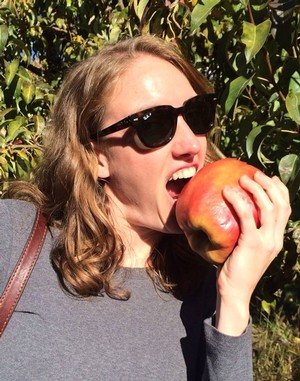 A passion for wine was Liz's inspiration for joining the wine industry. She worked in the Willamette Valley for several years and did a vintage in New Zealand before coming on at Edgefield in 2014. She is hard pressed to pick a favorite wine (Nebbiolo, Pinot Noir, and Syrah are all top contenders), but she enjoys producing wines that showcase the best qualities of each individual grape variety: well-balanced wines with beautiful aromatics and structure. Her favorite thing about working at Edgefield is how many different grapes we work with: 26 different varieties! She also loves cidermaking and the creativity that comes along with it.
"I am inspired by innovation and experimentation. I love trying things out and seeing them come to fruition."
Liz is definitely a people person, and enjoys sharing her passion with our customers. For her, winemaking is the perfect blend between art and science, and she will happily talk your ear off about both sides of it if you catch her on a tour.
When Liz isn't at the winery, she is usually hanging out with her husband and daughter. She enjoys cooking, hiking, karaoke, board games, playing music, distance running, and traveling.
Cliff Fortune - Cellar Hand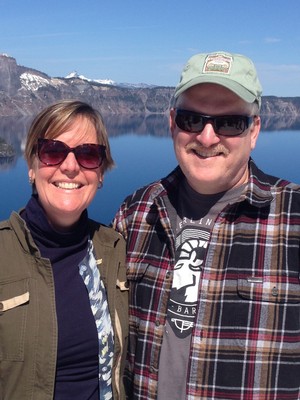 Cliff first learned how to make wine from his uncle in 1973 at the age of 15. He wanted to make a career out of wine making then, even volunteering with Ponzi Vineyard in 1978, but he took a job in the milk industry until he could find a full time job at a winery. After retiring 33 years later, he came to work at Edgefield for the 2013 harvest and never left. Although his favorite kind of wine to drink is Cabernet Sauvignon, he really enjoys making our Fireside dessert wines. He is also passionate about cider production and has become our "carbonation guru", making sure that each keg is perfectly pourable when it goes out to the pubs.
"Edgefield Winery is such an iconic place. It's great to be producing such wonderful wine and cider in full view and contact with our customers."
Cliff is great to work with and really prides himself on being a team player, as well as his work ethic and commitment to quality. He also likes talking to customers, answering their questions while great music is playing in the background. Although he has been working for over 4 decades, he says he's never enjoyed a job so much and looks forward to going to work every morning. He only wishes he had started making wine 40 years ago!
Cliff and his wife have 5 boys, aged 18 to 26. In his spare time, he enjoys golfing, skiing, and hiking with his family and friends. He also loves traveling, cooking, homebrewing, and volunteering in his community. He has been a volunteer with the Hoodland Fire Department for the last 27 years.
Marcus Glaze - Cellar Hand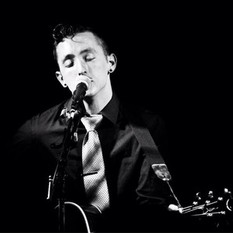 Our resident musician, Marcus is also a great addition to our cellar crew. He first worked in the wine industry from 2007-2008 in the Willamette Valley. That experience introduced him to fine wine, as well as good beer and good cheese. He started working for McMenamins in 2012 and joined the winery in 2013. He prefers making red wines, as he likes the more hands-on, involved process. He has also enjoyed getting more experience in the wine lab over the last few years, monitoring the fermentations and getting a chance to watch the evolution from juice to wine.
"It makes me proud to present friends and family with a product I am proud of, and that I had a hand in making."
Marcus enjoys drinking both red and white wines, depending on the season. Some of his favorites are Pinot Gris, Syrah, and Pinot Noir. He is proud to be a part of the winery team and loves that he has a cool, fun, and interesting job that gives him the opportunity to keep learning. He finds inspiration in the beauty of the world around him and the people he surrounds himself with, especially in the music community.
Marcus plays guitar, sings, and writes songs for his Folk/Americana band Falcon Heart. Check them out at www.facebook.com/falconheartmusic or reverbnation.com/falconheart.
Dean Kelley - Cellar Hand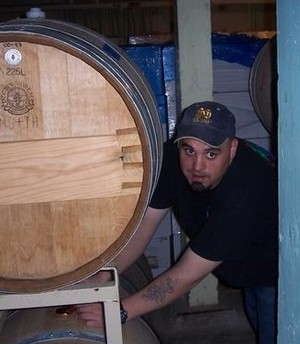 Dean has been with the winery since 2007. Always ready with a joke and a smile, his forklift skills and intimate knowlege of the keg washer help keep things running smoothly. He can usually be found deep in the cellar, playing classic rock music and making sure we have all the kegs we need to keep our customers well-hydrated.
"When I'm back here washing kegs, I'm always keeping the party going."
Dean originally trained as a mechanic, but became interested in production after coming to Edgefield to work in the maintenance department. He was interested in the brewery, but fell in love with cider and has become a true evangelist for our cider program. He's also a big fan of Pinot Noir.
In his free time, Dean can be found spending time with his wife and daughter, fishing, working around the house, playing his guitar, and building RC cars and airplanes.
Ryan Sund - Cellar Hand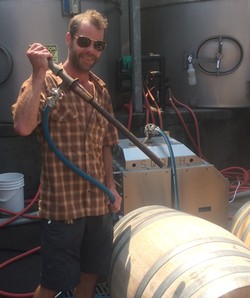 Ryan has been with the company since 2001 and began working for Edgefield Winery in 2004. He is a hard worker and likes the achievement of being able to create tangible products. He likes making (and drinking) red wines because creating them is such a hands-on experience and feels more personal.
"People aren't aware of what we're doing here. It's really cool to see their reactions when they realize how much goes into what they're drinking."
Ryan has a great eye for what needs to be done and makes sure that it happens. He has been here long enough to know the winery inside and out and he understands all the quirks of our historic space.
When he's not at the winery, Ryan likes spending time with his two boys and working on yard projects.
Sabastian Dillon - Cellar Hand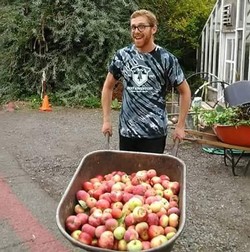 Sabastian got his start in the wine industry in 2013 in the Willamette Valley and joined our crew in 2016. Although his favorite wine to drink is Pinot Noir, he really enjoys the variety of wines we make here at Edgefield and being involved in all aspects of production, as well as with cider.
"From grape to bottle and everything in between. That's my jam."
Although he loves wine, Sabastian's dream is to become an electrical engineer, ideally on a space shuttle. He is a member of the planetary society and enjoys astronomy, reading, hiking, kayaking, and going on adventures.