Edgefield Hard Cider

The Edgefield Winery began producing hard cider in1992, utilizing the local bounty of apple orchards in the Columbia Gorge. Our apples are in cold storage in order to provide our production with fresh-pressed apple juice throughout the year. Apples used in our cider are a blend, including: Red Delicious, Golden Delicious (added for color) and Granny Smith (for acidity)—as well as Fuji, Galas and Honeycrisp (to increase sweetness).
The freshly pressed juice arrives at the Edgefield Winery, where it is pumped into temperature-controlled stainless steel tanks. Employing a cool fermentation to maintain as much of the fresh apple aromas as possible, we ferment the cider until it is completely dry. A bit of fresh-pressed apple juice is then blended back into the hard cider for some sweetness and to balance the acidity. We keg the cider with some CO2 spritz, and ship it off to all of our locations to enjoy!
Our Late Summer release is Blackberry Cider!
Release: August 20, 2014 - 6.5% abv
Production Notes: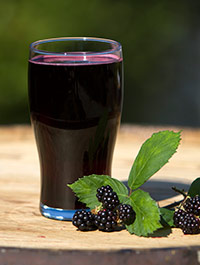 We are happy to announce the release of a new seasonal cider – Blackberry! What says "late summer" in the Pacific Northwest more than the scrumptious taste of wild blackberries?? Utilizing two iconic Northwest fruits – apples and blackberries – we have crafted this delicious new seasonal cider bringing together the crisp bite of the apple with the overt fruitiness of the blackberry.
Dark garnet in color, the aromas of fresh blackberries burst from the glass. The slightly tannic and tart blackberry component is balanced out by a small amount of residual sugar, while the fermented apple rounds out the mid-palate and finish.
All of our ciders are lightly carbonated, usually around 6.5% abv, and always gluten free. They are available on draft at all McMenamins locations and also sold in growlers to go for more enjoyment at home. Recently, we have been able to increase our production and kegging capacity to be able to offer them to home draft customers by the 5gal Sanke keg.
July 2014
'Oregon Wines Fly Free' Returns!
Tue, Jul 1, 2014 - Fri, May 1, 2015
Venue:
Onsite Purchases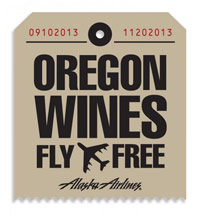 Good news, air travelers: We're again part of the Alaska Airlines "Oregon Wines Fly Free" program. We'll waive your tasting fee at Edgefield Winery, and you can check a case of Edgefield wine—which we'll pack in a convenient container—for no charge on your return Alaska flight. Just show your boarding pass! What better souvenir is there?! This is good now through May 2015.