Meet the Makers
Davis Palmer - Winemaker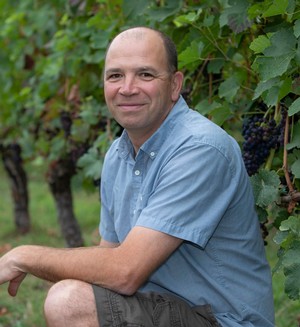 An interest in homebrewing and a family history of bootlegging first inspired Davis to join the McMenamins family back in 1995 as a line cook at the Power Station. He became a brewer for the company and brewed at Edgefield, John Barleycorns, Fulton, Hillsdale, and Oak Hills before joining the winery for harvest in 2000. He quickly was promoted to Cellar Master and became the Head Winemaker in 2003. Since then he has overseen an increased focus on the Columbia Gorge AVA, the expansion of our Rhône program, and the massive growth of our cider production.
"You can't taste too often or too much, you need to track what is developing in the wines and be proactive."
Davis has a strong connection to all the wines we produce, but finds the Syrah program particularly rewarding. He also points to the Fireside Port program as an example of what Edgefield Winery is about. Fortified wines take a great deal of additional planning in the vineyard and winery and take so much time to develop, that they really express a commitment to the end product that is a rarity in the industry.
Want to get into winemaking? He recommends seeking out opportunities to get your hands dirty and your feet wet and see just how wine is made before diving in too deeply. That said, he loves the intensity of harvest and looks forward to tasting fruit in the vineyards every fall to ensure the grapes are picked at peak ripeness. When he's not at the winery, he enjoys hiking, biking, skiing, and spending time with his family.
Racquel Chappell - Assistant Winemaker & Cidermaker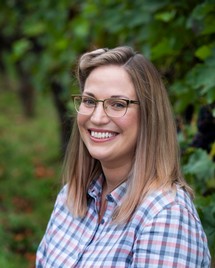 Racquel came to us with an Enology degree from Cal Poly and demonstrated an extensive wine and cider knowledge as our Laboratory Technician prior to becoming the Assistant Winemaker. She has worked in winemaking since 2011 and came into the industry with a background in hospitality and sales making her a great fit with McMenamins.
"Wine isn't just a drink, it's a complex living thing and it is the tangible result of many peoples hard work."
Racquel's love for math and science combined with her outgoing personality helped her find her path into winemaking. She had found her mix of science and artistry that brought people together. She has especially loved working with our expanding Pinot program.
In her free time Racquel enjoys traveling, live music, and finding inspiration in nature.
Cliff Fortune - Cellar Hand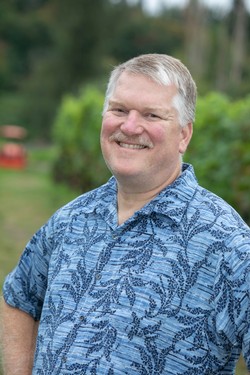 Cliff first learned how to make wine from his uncle in 1973 at the age of 15. He wanted to make a career out of wine making then, even volunteering with Ponzi Vineyard in 1978, but he took a job in the milk industry until he could find a full time job at a winery. After retiring 33 years later, he came to work at Edgefield for the 2013 harvest and never left. Although his favorite kind of wine to drink is Cabernet Sauvignon, he really enjoys making our Fireside dessert wines. He is also passionate about cider production and has become our "carbonation guru", making sure that each keg is perfectly pourable when it goes out to the pubs.
"Edgefield Winery is such an iconic place. It's great to be producing such wonderful wine and cider in full view and contact with our customers."
Cliff is great to work with and really prides himself on being a team player, as well as his work ethic and commitment to quality. He also likes talking to customers, answering their questions
while great music is playing in the background. Although he has been working for over 4 decades, he says he's never enjoyed a job so much and looks forward to going to work every morning. He only wishes he hadstarted making wine 40 years ago!
Cliff and his wife have 5 boys, aged 18 to 26. In his spare time, he enjoys golfing, skiing, and hiking with his family and friends. He also loves traveling, cooking, homebrewing, and volunteering in his community. He has been a volunteer with the Hoodland Fire Department for the last 27 years.
Katie Stevenson - Lab Technician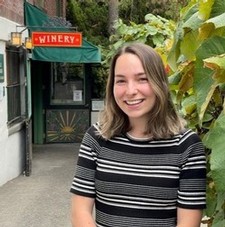 Katie Stevenson joined us in July and plays in integral role on the production team as a Lab Technician. She is new to the wine industry but expresses her excitement and has added a wonderful energy to the team.
Katie wants to "experience and learn everything there is to know about wine!
Katie is entering her final year of her biochemistry program at Portland State in the fall. When not working or studying, she spends her time with her favorite furry friend exploring dog parks, backpacking and traveling with her partner, and learning to play the keyboard.
Ryan Sund - Cellar Hand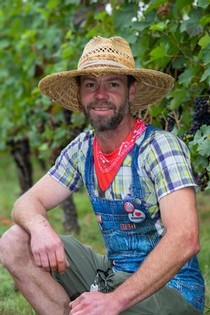 Ryan has been with the company since 2001 and began working for Edgefield Winery in 2004. He is a hard worker and likes the achievement of being able to create tangible products. He likes making (and drinking) red wines because creating them is such a hands-on experience and feels more personal.
"People aren't aware of what we're doing here. It's really cool to see their reactions when they realize how much goes into what they're drinking."
Ryan has a great eye for what needs to be done and makes sure that it happens. He has been here long enough to know the winery inside and out and he understands all the quirks of our historic space.
When he's not at the winery, Ryan likes spending time with his two boys and working on yard projects.
Arturo Aguirre Flores - Cellar Master

Arturo Aguirre Flores has joined the Edgefield Winery team in february of 2022 as our Cellar Master. Arturo has an extensive background in the industry and most recently worked as a production assistant for Heritage Distilling Co.
Born in Mexico City, Arturo traveled to pursue his wine passion and eventually ended up in California where he graduated from UC Davis with a Master of Science in Viticulture and Enology.
In his free time, Arturo enjoys spending time with his wife and their cat, playing games, making cider at home, and competing in triathlons when he finds the time. Arturo first stumbled upon McMenamins while on a road trip with friends. They stopped for our legendary Cajun Tots, their curiosity was rewarded, and rest is history – lucky us! Join us in welcoming Arturo.