Shipping Policy
Wine is a perishable item and extreme weather can be damaging. During the summer and winter months, we only guarantee orders shipped via FedEx Next Day Air or Temperature Controlled Ground (summer only). After placing an order, please allow two business days for processing. You will receive an email with tracking information once your order has shipped.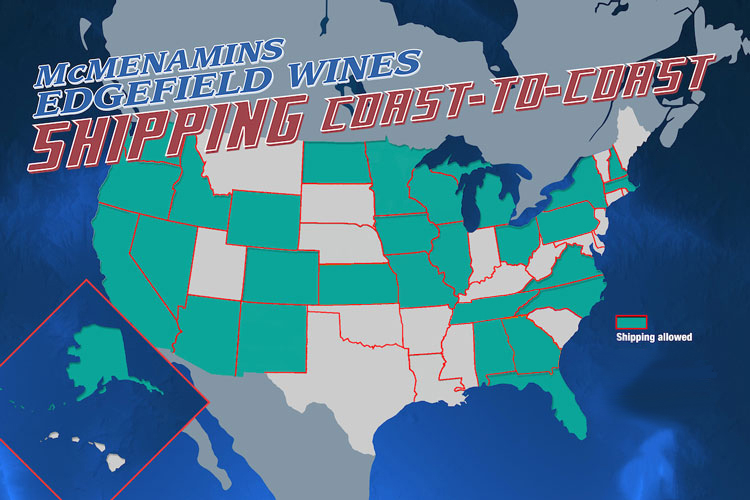 Due to the ever-changing nature of wine shipping laws, we may not be able to ship wines to all states. We are currently able to ship to:
Alabama*, Alaska, Arizona, California, Colorado, Florida, Georgia, Idaho, Illinois, Iowa, Kansas, Massachusetts, Michigan, Minnesota, Missouri, Nevada, New Hampshire, New Mexico, New York, North Carolina, North Dakota, Ohio, Oregon, Pennsylvania, Tennessee, Virginia, Washington, Wisconsin, Wyoming and the District of Columbia.
Note: Shipments to Alabama must be consigned, with freight charges prepaid, directly to the individual in care of an ABC store (where taxes are rendered). The shipping address should be the ABC store where the wine will be picked up. Before the wine is shipped, you must fill out this authorization form and email to info@edgefieldwinery.com: Alabama Wine Shipment Authorization Form
Orders placed online for pick up have a turn around time of one business day to allow for processing and pulling of the order.