April 24, 2018 | Laura Lee
Oregon Wines Fly Free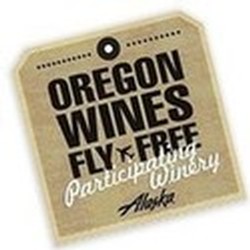 Edgefield Winery is proud to once again participate in Alaska Airline's Oregon Wines Fly Free program. It's easy to take a taste of Oregon wine country home with you if you're an Alaska Airlines Mileage Plan member!
Alaska Airlines Mileage Plan members may check one case of wine (6 or 12 bottles) for free on your Alaska Airlines flight from Eugene, Medford, Portland, Redmond or Walla Walla, WA. To sweeten the deal, we invite you to enjoy a complimentary tasting when you show your in-bound boarding pass (paper or digital) and proof of your Alaska Airlines Mileage Plan membership at Edgefield or any of the more than 300 participating wineries.
Here are a few other things we think you'll want to know…
One free checked case per Alaska Airlines Mileage Plan member

Mix and match or bring a whole case from your favorite Oregon winery

Be sure to read the important information below on how to pack your wine for travel

Free tastings do not apply on holiday weekends or during special winery events

Visit the Oregon Wines Fly Free FAQs page if you have more questions
Not an Alaska Airlines mileage member? Sign up today, it's free! Then, find an Alaska Airlines flight from your city and start planning your dream trip to any number of Oregon's incredible – and incredibly diverse – wine regions.
An important note about packing your wine to fly
Wine must be safely packaged for transport in a protective shipping container. The TSA asks that containers not be sealed, but remain open for inspection. Shipping boxes are available at many of the region's wineries as well as visitor information centers and will vary in price. Please note that it is the responsibility of the Alaska Airlines passenger to be sure the wine is properly packaged for checking as luggage. Advise the Alaska Air Customer Service Agent when you check in so the box can be properly labeled with FRAGILE stickers. Items packaged in cardboard boxes are covered in case of loss, but are checked at your own risk for damage. View Alaska Airlines' Checked Baggage Policies for more details.
Comments
Commenting has been turned off.